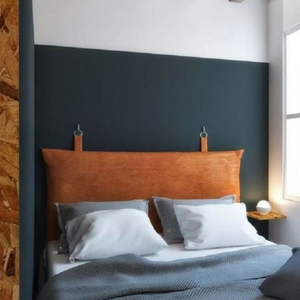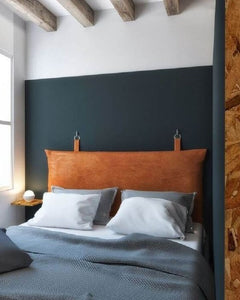 Genuine Leather Headboard , Wall Hang Cushion headboard
Regular price
Sale price
$250.00 USD
---

Materials: leather

Made by experienced and talented Artisans from Morocco !


  The genuine Leather French Seam Bedhead sounds like a beautiful and luxurious addition to any bedroom. The use of genuine leather and the French seam construction gives it a refined and polished appearance that would elevate any decor. The lustrous tan hue is a warm and inviting color that can create a cozy and relaxing ambiance in the bedroom. The padded front not only adds to the overall comfort of the bed, but it also creates a sleek and sophisticated look. Overall, the Tan genuine Leather French Seam Bedhead seems like an excellent investment for anyone looking to transform their bedroom into a sophisticated haven.

It sounds like this leather hanging headboard is a high-quality and stylish addition to any modern bedroom. It's great to hear that the leather used is ethically-sourced and fair trade, which is an important consideration for many consumers today.

Additionally, the fact that the headboard is handmade adds to its uniqueness and value. It's also nice to know that it's lightweight and easy to hang, which should make the installation process a breeze.

Overall, it sounds like this leather hanging headboard would be a great investment for anyone looking to add a touch of luxury to their bedroom decor while still being mindful of ethical and sustainable practices.

Highlights:

● Made from ethically-sourced genuine leather
● Comes in multiple sizes for your convenience
● Comes STUFFED (a finished item)


 Shipping Cost: FREE

Shipping Process: 1-3 Days

Estimated DeliveryTime:: 5-9 Days



 
In addition, the fact that they are not synthetic makes them environmentally friendly.
The structure is made of , durable wood that suits the time.
Because they are natural materials, each has its own stripes, tones and textures, making each piece exclusive and unrepeatable.

_____________________________
♥ Commitment to giving back ♥

GFM is now helping 7 communities in Marrakech and khemissat (20km from Marrakech) to build more nurseries and better established schools, and supporting the independence of women in the Agafay area. We will be donating 5% on every product sold in our shop. Help us raise funds to keep our support going on. 



♥ ♥ ♥ ♥ ♥ ♥ ♥ ♥ ♥ ♥ ♥ ♥ ♥ ♥ ♥ ♥ ♥



Very limited quantity ! Do not miss this rare & unique item !
SHIPPING
-The tracking number will be provided to the same within 48 hours-
RETURN POLICY
1- In case of return of the goods, the buyer will be responsible for the shipping costs.
2- Customs duties and other levies in the country of destination are the responsibility of the customer.
3- We will change the item if it is returned to us within 14 days of the original package.
4-The item should not be used.
5- No alterations Must be Done to Item. Otherwise We won't take it Back
6- Buyer Must Inform within Two days after Getting the product about any Issues with the Item.