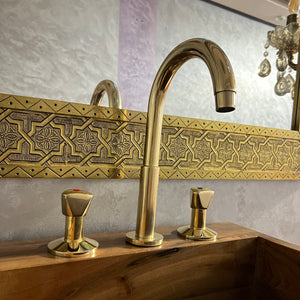 Handmade Unlacquered Brass Vanity Faucet | Three Holes
Regular price
Sale price
$400.00 USD
---

Introducing our Handmade Moroccan Faucet: A Fusion of Style and Performance


Bring the charm of Moroccan handicrafts into your home with our exquisite handmade Moroccan faucet. This stunning piece combines exceptional performance with a captivating design, allowing you to create the home of your dreams.
At Brasspure Cooperative, we pride ourselves on our dedication to quality and craftsmanship. With over 20 years of experience in creating artisanal brass faucets and sinks, we have elevated the combination of vintage aesthetics and innovative techniques to new levels of creativity.
To ensure the faucet reaches you in perfect condition, we meticulously inspect each piece before carefully packing it in a handmade wooden box. Our commitment to excellent customer service extends throughout the shipping process, and you can expect your order to arrive within 2 to 3 business days.
Installation is a breeze, taking just a few minutes of your time. Rest assured, we provide comprehensive instructions and all the necessary information required for a hassle-free installation. Should you require additional assistance, we also have an installation video available upon request.
Features:
Unlacquered Pure Brass: Crafted from the finest pure brass, our faucet boasts unparalleled durability and a timeless appeal that only improves with age.
Easy to Install: Designed with convenience in mind, our faucet is engineered for easy installation, making it accessible for DIY enthusiasts and professionals alike.
Installation Video: For those who prefer visual guidance, we offer an installation video that provides step-by-step instructions to ensure a seamless installation process.
Spread: With a spread of 8 inches, our faucet offers a balanced and comfortable water flow, enhancing the functionality of your sink.
Spout Reach: The faucet's 6-inch spout reach provides ample clearance, making it ideal for various sink styles and sizes.
Height: Standing at 8.5 inches, our faucet strikes the perfect balance between elegance and practicality.
Specifications:
Handle Styles: Choose from an array of handle styles, including Star, Flat, Special, or Cross handles, to complement your personal taste and bathroom decor.
Materials: Our faucets are meticulously crafted from pure brass, ensuring longevity and a luxurious appeal.
Country of Origin: Each faucet is handmade in Morocco, precisely in the enchanting city of Marrakech, known for its rich tradition of skilled craftsmen.
Warranty Details: We stand behind the quality of our products and offer a comprehensive warranty to provide you with peace of mind:
Warranty Parts: Enjoy a five-year warranty that covers a range of issues, including damage during shipping, missing parts, product variations from the provided photo, leakage, broken parts, and faucet finish.
Hassle-Free Support: If you encounter any issues covered by the warranty, simply contact us, and our dedicated customer service team will promptly assist you. We will gladly provide free replacement parts and make any necessary arrangements.
Experience the allure of Moroccan craftsmanship and elevate your bathroom with our Handmade Moroccan Faucet. Shop now and discover the perfect blend of timeless style and exceptional performance for your home.